Friday, May 30
3-8 PM
Saturday, May 31
9 AM - 5 PM
Sunday, June 1
10 AM - 4 PM


Friday, May 30
Saturday, May 31
| | |
| --- | --- |
| Rod Carew | 11:00 am |
| Jim Palmer | 11:00 am |
| Johnny Bench | 11:30 am |
| Pete Rose | 11:45 am |
| Cal Ripken, Jr. | 12:00 pm |
| Earl Campbell | 12:30 pm |
| Boog Powell | 12:30 pm |
| Ralph Sampson | 1:00 pm |
| Hakeem Olajuwon | 1:30 pm |
| Tom Glavine | 2:00 pm |
| David Justice | 3:00 pm |
Sunday, June 1
| | |
| --- | --- |
| JJ Watt | 12:00 pm |
| David Robinson | 12:30 pm |
| Craig Biggio | 1:00 pm |
| DeAndre Hopkins | 1:00 pm |
| George Gervin | 1:15 pm |
| Frank Thomas | 1:30 pm |
| Mike Evans | 3:00 pm |
STEP 1:

Purchase Admission Tickets. Each person attending must have a ticket to enter the show each day OR purchase the Houston VIP Package for a 3-day admission pass & much more!
Purchase Autograph Tickets. You must have an autograph ticket for each autograph you wish to obtain. Fees vary for each guest. Your ticket number designates your place in line, so purchase in advance to ensure low ticket numbers OR purchase the Houston VIP Package for autograph line priority!

STEP 2:

Don't forget the Photo Opportunity Ticket for the opportunity to take your photo with your favorite stars! Fifteen (15) minutes prior to their regularly scheduled autograph appearances, autograph guests will be available to take photos with you, their fans, at the TRISTAR Photo Booth. Receive a professional color 5"x7" photo within minutes! (Fees vary for each guest & autograph is not included).

STEP 3:

Don't have an item to have signed? You can purchase unsigned items directly from TRISTAR! Official Show Merchandise is available for all of your autographing needs. Everything from photos to footballs to bats to baseballs to jerseys are available for your favorites to sign at the show. Items can be purchased in advance for your convenience and then picked up at the show. We recommend preordering due to limited quantities for some items.

STEP 4:

Purchase Authentication Tickets. If you would like to TRISTAR Authenticate your autograph signed at the show, you will need an authentication ticket. Take the ticket to the TRISTAR Authentication Booth and a TRISTAR representative will hologram your item and register it in the online database at www.tristarauthentic.com.

STEP 5:

Walk the show floor and check out what The Nation's Finest Exhibitors have to offer. Look for one-of-a-kind collectibles, rare cards and more! The exhibitors are ready to sell, buy and trade! Grading Services are also available from several exhibitors.
CAN'T ATTEND? TRISTAR can still help you obtain autographs from your favorite stars attending the show. Preorder autographed merchandise or send us your own item! (Available soon).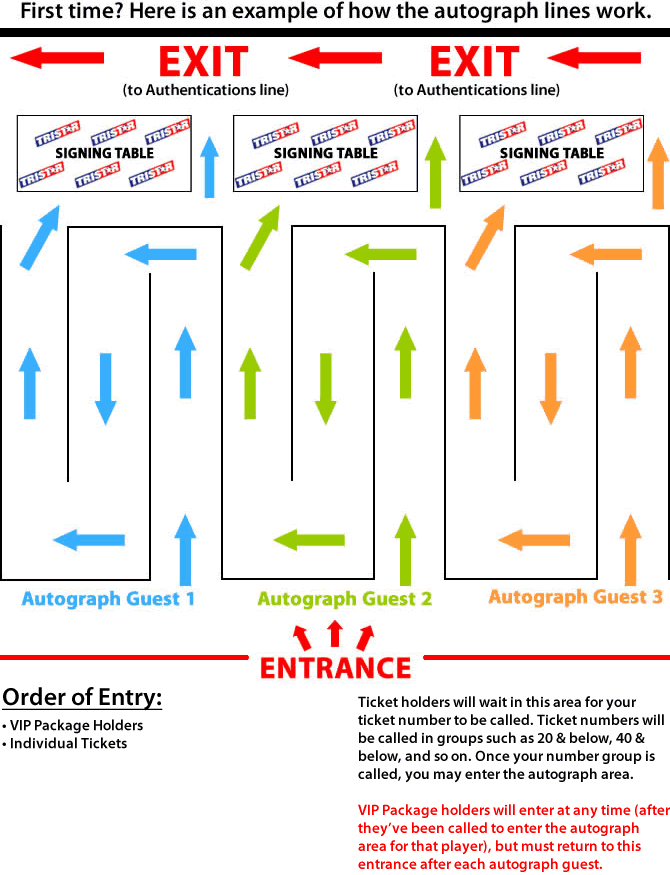 Beckett Media
Will be accepting submissions on site for grading. This means that a customer will need to leave the cards with Beckett for an extended period of time to get their grade. In most instances the cards are shipped back to the customer at a later date. Customer will choose if they want the card encapsulated or not.

---

James Spence Authentication


James Spence, the pioneer and most well respected in the Autograph authenticating business will be a on hand to accept submissions for authenticating. James Spence Authenticators (JSA) is a very well respected company in the industry and they don't make many show appearances so be sure to take advantage of this opportunity to have your items looked at by one of the very best.

Host Hotel & Special Group Rate to Be Announced

For all the latest news and information on the TRISTAR Collectors Show in
Houston
, join the email mailing list.