WHAT YOU NEED TO KNOW
ADMISSION TICKETS
★ You will need an admission ticket for each day you would like to enter the show. Purchase tickets now.
AUTOGRAPH TICKETS
★ You've got to have one. For every signature you want.
★ Purchase them in advance by clicking here, or on-site at the TRISTAR Autograph Ticket Booth. Fees vary for each guest.
★ Make sure you have an item for the player to sign. You may need a certain ticket for different items, so be sure you have something before you buy a ticket. Don't have an item? CLICK HERE TO PRE-ORDER UNSIGNED MERCHANDISE!
First Time Attending the Show? Here's How the Autograph Lines Work: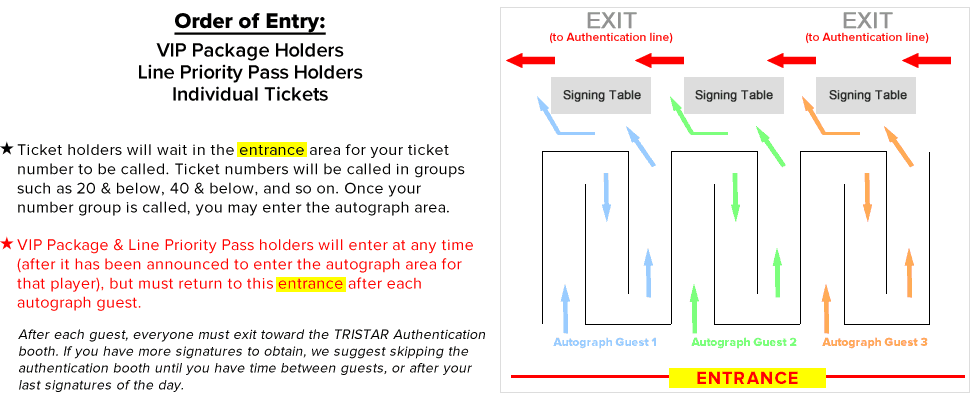 SPECIAL SHOW PACKAGE
★ VIP Package: Includes 3-day admission, autograph line priority, autograph tickets & more. Save time and money by purchasing this great way to attend the show. Click here to purchase.
AUTHENTICATION TICKETS
★ By adding TRISTAR Authentication, you can verify the authenticity of the autograph by entering the hologram number at TristarAuthentic.com.
★ Add a TRISTAR Authentication hologram to your item with a New Record Authentication ticket. Purchase a New Record if you are adding the first signature to your item. Click here to purchase.
★ Add additional signatures to your current TRISTAR Authentication record with an Add On ticket. Click here to purchase.
Only items signed the same day at the show can be authenticated by TRISTAR. Once you have obtained your signatures for the day (or have some spare time in between signings), head over to the Authentication table, which is at the exit of the autograph signing area.
PHOTO OPPORTUNITY TICKETS
★ Have your photo taken with your favorite players! You'll get a printed photo to take home to show all of your friends how awesome you are!
★ Purchase tickets. Fees vary for each autograph guest. Not available for all guests. You need an autograph ticket if you want your photo signed. Purchase Tickets now!
TRISTAR TALK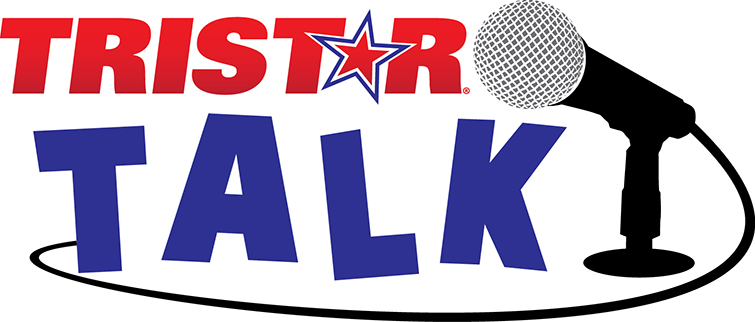 ★ Exclusive Q & A sessions with players attending the show. CLICK HERE FOR MORE INFO!
CAN'T ATTEND THE SHOW?
★ We can help! Preorder autographed memorabilia from your favorite stars attending the show. Choose an autographed item, even add an inscription or personalization (some exeptions apply), and we will ship it to you immediately following the show! PRE-ORDER COMING SOON!
★ Have your own item? Mail-in your item to us, we'll have it signed, and ship it back to you! CLICK HERE TO MAIL-IN YOUR ITEM TO HAVE SIGNED!
THE NATION'S FINEST EXHIBITORS
SHOW EXHIBITOR LIST
★ They've traveled from near and far to buy, sell & trade with YOU! CLICK HERE FOR A LIST OF EXHIBITORS!
COMING FROM OUT OF TOWN?
HOTEL INFORMATION
Crowne Plaza Houston - Medical Center near NRG Park
(Conveniently located just across Kirby from NRG Park)
8400 Kirby Drive
Houston, TX 77054
Phone: (Local) 713-748-3221 (Toll Free) 800-627-6461
Special Group Rate per Night (King or 2 Doubles): $115 + taxes [reserve by Jan. 27]
CLICK HERE TO Book online now!
Or call 713-795-8407 and mention the TRISTAR COLLECTORS SHOW for the special group rate.