WHAT YOU NEED TO KNOW
GENERAL INFO
★ The National Sports Collectors Convention is put on by the National staff, not TRISTAR. All show details outside of the TRISTAR Autograph Pavilion (including admission, VIP Packages, exhibitors, etc.) are provided by the National. VISIT THE NATIONAL'S WEBSITE. (You will be redirected to the National's website.)
ADMISSION TICKETS
★ You will need an admission ticket for each day you would like to enter the show. Admission tickets are sold ONLY through the National's website. Get week-long admission with the purchase of a VIP Package! DETAILS COMING IN 2016.
AUTOGRAPH TICKETS
★ You've got to have one. For every signature you want.
★ Purchase them on-site at the TRISTAR Autograph Ticket Booth. Fees vary for each guest.
★ Make sure you have an item for the player to sign. You may need a certain ticket for different items, so be sure you have something before you buy a ticket. Don't have an item? We will have a large variety of items available at the OFFICIAL SHOW MERCHANDISE BOOTH.
★ Have the player add a career achievement or personalization by purchasing an inscription ticket. (Autograph not included. Must have an autograph ticket to purchase an inscription ticket. Inscriptions cannot be added to previously signed items. *Some players may offer 1 free inscription.)
First Time Attending the Show? Here's How the Autograph Lines Work: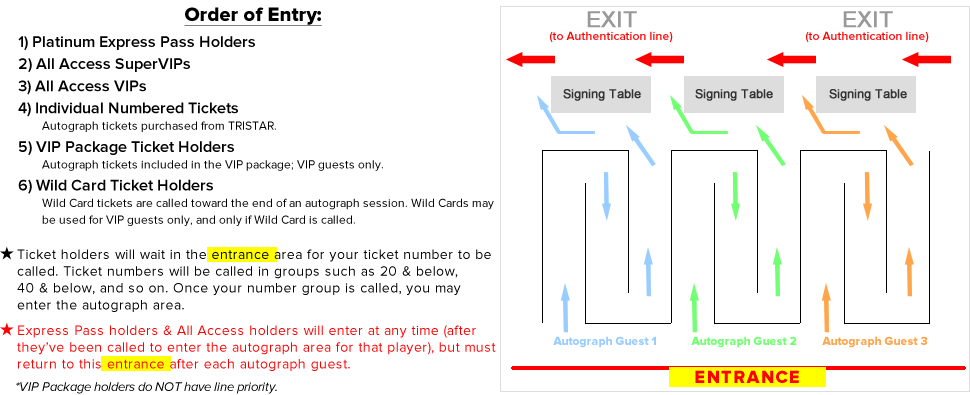 SPECIAL SHOW PACKAGES
★ All Access VIP Package: Includes week-long admission, autograph line priority, autograph tickets & more. Save time and money by purchasing one of the four great ways to attend the show. DETAILS COMING IN 2016.
★ PLATINUM Express Pass: The ultimate autograph line priority package. Includes autograph line priority, authentication line priority, and autograph tickets. DETAILS COMING IN 2016.
AUTHENTICATION TICKETS
★ By adding TRISTAR Authentication, you can verify the authenticity of the autograph by entering the hologram number at TristarAuthentic.com.
★ Add a TRISTAR Authentication hologram to your item with a New Record Authentication ticket. Purchase a New Record if you are adding the first signature to your item. DETAILS COMING IN 2016.
★ Add additional signatures to your current TRISTAR Authentication record with an Add On ticket.
Only items signed the same day at the show can be authenticated by TRISTAR. Once you have obtained your signatures for the day (or have some spare time in between signings), head over to the Authentication table, which is at the exit of the autograph signing area.
PHOTO OPPORTUNITY TICKETS
★ Have your photo taken with your favorite players! You'll get a 5"x7" photo to take home to show all of your friends how awesome you are!
★ Purchase tickets. Fees vary for each autograph guest. Not available for all guests. Autograph is not included with a photo op, so you will need an autograph ticket if you want your photo signed. (No phones or cameras allowed in the photo booth area.)