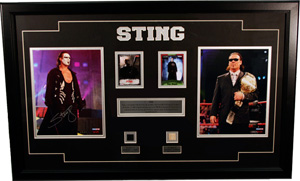 Please note that this image is for sample display purposes.
Actual product may vary slightly.
Sting Framed Signature and Event Used World Champion Collection -
BRAND NEW
Limited Edition of 50
Sting, a true legend of the wrestling ring, has been a multi-time World Heavyweight Champion, including three stints with TNA.
On October 12, 2008, Sting bested Samoa Joe for the TNA World Heavyweight Championship at Bound For Glory IV, finishing Joe off with his signature finishing move, the Scorpion Deathlock.
In October, Sting along with Kurt Angle, Booker T., Kevin Nash and later Scott Steiner formed the Main Event Mafia after declaring their mission of getting the company's younger stars to respect the veterans.
This amazing collection includes a hand-signed photo of Sting in his ring attire, a photo of him holding the championship belt, Sting's 2008 iMPACT! and Cross The Line trading cards AND authentic pieces of a Sting event-used shirt and his bat used at Victory Road.
A true collector's piece! Only 50 available!
Size: 20" x 32"
Price: $199.99