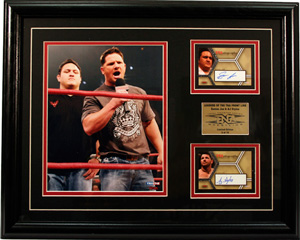 Please note that this image is for sample display purposes.
Actual product may vary slightly.
Samoa Joe and AJ Styles: Leaders of the TNA Front Line Framed Autographed Piece with Trading Cards - BRAND NEW
Limited Edition of 15
Samoa Joe: former TNA World Heavyweight Champion, 3-time X-Division Champion and World Tag Team Champion.
AJ Styles: 3-time TNA World Heavyweight Champion, 5-time World Tag Team Champion and 6-time X-Division Champion.
They are two of the brightest stars in TNA, and together they started the group first known as the TNA Originals, now the TNA Front Line.
This special piece features autograph cards of Joe and AJ. Only 15 of these were created! Size: 16" x 20"