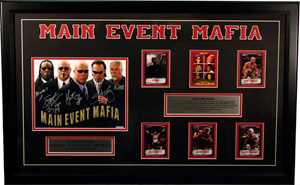 Please note that this image is for sample display purposes.
Actual product may vary slightly.
Main Event Mafia Framed Signature Collection - BRAND NEW
Limited Edition of 99
This amazing new piece features hand-signed autographs from five of the greatest wrestling legends in history: Booker T., Scott Steiner, Kurt Angle, Sting and Kevin Nash. Together, they form the MAIN EVENT MAFIA, one of the strongest alliances ever formed!
This item is the first piece of its kind to feature the MAIN EVENT MAFIA, and only 99 are available. A perfect holiday gift! Size: 20" x 32"
Price: SOLD OUT