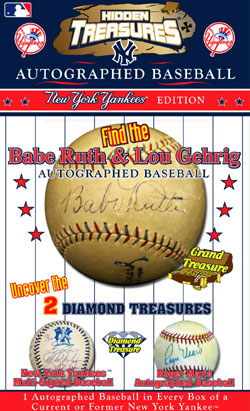 CHECKLIST
GRAND TREASURE
Babe Ruth & Lou Gehrig Dual-Signed Baseball


The Grand Treasure features the signatures of two the game's most recognized and collectible players of all time. A Grand Treasure for the Ages.

TWO DIAMOND TREASURES

3-Time World Series Champions signed DiMaggio Commemorative Rawlings Baseball, featuring signatures of winners of the 1998, 1999 & 2000 W.S. Championships, including Derek Jeter, Roger Clemens, Mariano Rivera, Tino Martinez, Joe Torre, Andy Pettitte, Bernie Williams, David Cone, Paul O'Neill and more.


Roger Maris Authenticated Autographed Baseball



RETIRED NUMBERS TREASURES




Look for signed baseballs from players who have had their uniform numbers retired by the Yankees including: DiMaggio, Mantle, Ford, Stengel, Martin, Howard, Rizzuto, Guidry, Mattingly, Jackson, Berra & Dickey!




GAME USED TREASURES


Authenticated autograph of 7x Cy Young winner Roger Clemens on a MLB authenticated game-used baseball

.


Every ball comes authenticated by TRISTAR.



One autographed ball of a current or former New York Yankee, including Hall of Famers, Superstars, Fan Favorites, Young Stars, Prospects & more guaranteed in every box!



Click Here to Find an Authorized Dealer Near You!