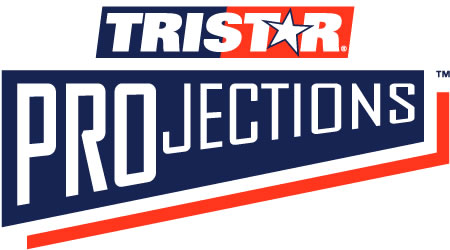 CHECKLISTS
2009 Series 1 • 2009 Series 2 • 2009 Series 3 • 2008 Series • 2008 High # Series
TRISTAR PROjections 2009 Series 1
Card #
Player
Autograph Card
Card #
Player
Autograph Card
1
Jarrod D. Parker
X
51
Cody Adams
X
2
Justin D. Parker
X
52
Logan Shafer
X
3
Leyson Septimo
X
53
Angel Morales
4
Craig Kimbrel
54
Carlos Gutierrez
5
Freddie Freeman
55
Dominic De La Osa
6
Layton Hiller
56
Nick Romero
7
Travis Adair
57
Tyler Ladendorf
8
Buck Britton
58
Ike Davis
X
9
L.J. Hoes
59
Javier Rodriguez
10
Matt Wieters
X
60
Wilmer Flores
11
Alex Hale
X
61
Austin Jackson
X
12
Anthony Rizzo
X
62
Brett Marshall
13
Che-Hsuan Lin
63
Corban Joseph
14
Felix Doubront
64
Dan Brewer
15
Lance McClain
65
Gian Carlos Arias
16
Lars Anderson
X
66
Kyle Higashioka
17
Mitch Herold
67
Mike Lyon
18
Sean Danielson
X
68
Mitch Delaney
19
Seth Garrison
69
Ray Kruml
20
Wes Hodges
70
Dusty Coleman
21
Yamaico Navarro
X
71
Petey Paramore
X
22
Aaron Shafer
X
72
Tyson Ross
X
23
David Macias
73
Michael Taylor
24
Jeff Beliveau
74
Andrew McCutchen
25
Josh Vitters
X
75
Daniel Moskos
X
26
Logan Watkins
76
Jim Negrych
27
Matt Cerda
X
77
Adis Portillo
28
Ryan Keedy
78
Blake Tekotte
29
Tony Campana
79
Kellen Kulbacki
30
John Shelby
80
Luis Domoromo
31
Jordan Danks
X
81
Brandon Crawford
X
32
Alex Buchholz
82
Jordan Zimmermann
X
33
Yonder Alonso
83
Madison Bumgarner
X
34
Bryce Stowell
84
Roger Kieschnick
35
David Huff
85
Dennis Raben
36
Matt LaPorta
X
86
Julio Morban
37
Zach Putnam
87
Colby Rasmus
X
38
Christian Friedrich
X
88
Curt Smith
39
Everth Cabrera
89
Lance Lynn
X
40
Cale Iorg
90
Shane Peterson
41
Rick Porcello
91
Chris Nowak
42
Logan Morrison
92
Jake Jefferies
43
Steve Lombardozzi
93
Derek Holland
44
Mark Ori
94
Elvis Andrus
X
45
Daniel Cortes
95
Robbie C. Ross
46
Johnny Giavotella
96
Tim Murphy
X
47
Mike Moustakas
X
97
Kenny Wilson
48
Tyler Sample
98
Scott Campbell
49
Ryan Chaffee
99
Destin Hood
50
Andrew Lambo
100
Jake Smolinski
X
TRISTAR PROjections 2009 Series 2
Card #
Player
Autograph Card
Card #
Player
Autograph Card
101
Trevor Harden
151
Dan Osterbrock
102
David Francis
152
Evan Bigley
103
Jason Heyward
153
Brad Holt
X
104
Scott Diamond
154
Dylan Owen
105
Brian Conley
155
Jeff Kaplan
106
David Hernandez
156
Addison Maruszak
107
Jake Arrieta
157
Chad Gross
X
108
Bryan Peterson
158
Cory Arbiso
109
Bryan Price
X
159
David Phelps
110
Casey Kelly
160
Jack Rye
111
Mark Wagner
X
161
Jesus Montero
112
Mike Lee
X
162
Luke Greinke
113
Stolmy Pimentel
163
Mikey O'Brien
114
Andrew Cashner
164
Pat Venditte
X
115
James Leverton
165
Jordan Lyles
116
Jericho Jones
166
Brett Hunter
X
117
Justin Bristow
167
Rashun Dixon
X
118
Luis Bautista
168
Sean Doolittle
X
119
Mitch Atkins
169
Anthony Hewitt
X
120
Ryan Sontag
170
Jim Murphy
121
Tarlandas Mitchell
171
Vance Worley
122
Brandon Allen
172
Chase D'Arnaud
X
123
Daniel Hudson
173
Elias Otero
124
Gordon Beckham
X
174
Jeff Sues
125
Kyle Greenwalt
175
Pedro Alvarez
126
Chris Valaika
176
Cedric Hunter
127
Juan Carlos Sulbaran
177
David Freese
128
Zach Stewart
178
Jon Link
129
Chen-Chang Lee
179
Kyle Blanks
130
Cord Phelps
180
Matt Buschmann
131
Hector Rondon
181
Buster Posey
X
132
Charlie Blackmon
X
182
Kevin Pucetas
X
133
Jhoulys Chacin
X
183
Ryan Mantle
134
Josh Bell
X
184
Tim Alderson
X
135
Tyler Massey
185
William Rhymes
136
Wilin Rosario
186
Greg Halman
137
Brad Hand
X
187
Michael Pineda
138
Drew Sutton
X
188
Phillippe Aumont
139
Jay Austin
X
189
Seth Lintz
140
Nate Pettus
190
Brett Wallace
141
Phil Disher
191
Deryk Hooker
X
142
Matt Moore
192
Richie Lentz
143
Danny Gutierrez
193
Miguel Flores
144
Miguel Moctezuma
194
Andrew Liebel
145
Roberto Lopez
195
David Cooper
146
Tyler Chatwood
X
196
Jake Opitz
147
Ivan DeJesus Jr.
197
Markus Brisker
148
Jeremy Jeffress
198
Danny Espinosa
149
Ben Revere
X
199
J.P. Ramirez
150
Bobby Lanigan
X
200
Will Atwood
TRISTAR PROjections 2009 Series 3
Card #
Player
Autograph Card
Card #
Player
Autograph Card
201
Bryan Shaw
X
251
Jayson Miller
202
Cesar Valdez
252
Rolando Gomez
203
Daniel Schlereth
X
253
Ethan Martin
204
Andrew Carignan
254
Josh Lindblom
X
205
Edgar Osuna
255
David Welch
206
Kris Medlen
X
256
Jake Odorizzi
207
Shayne Moody
257
Anthony Slama
X
208
Tommy Hanson
X
258
Jeff Lanning
X
209
Bobby Bundy
259
Steve Tolleson
X
210
Brian Matusz
260
Chris Schwinden
X
211
Jason Rook
261
Eric Campbell
212
Nathan Nery
262
Shawn Kelley
213
Xavier Avery
X
263
Kirk Nieuwenhuis
214
Dennis Neuman
X
264
Brandon Braboy
215
Luis Exposito
265
Chris Smith
216
Mitch Dening
266
Garrison Lassiter
217
Tyler Yockey
267
Jeff Nutt
218
Dan McDaniel
268
Jeremy Bleich
219
Hak-Ju Lee
269
Matt Richardson
220
Jay Jackson
X
270
Mitch Abeita
221
Josh Harrison
271
Yeicok Calderon
222
Kurt Calvert
272
Jemile Weeks
223
Luis Flores
273
Trevor Cahill
224
Rebel Ridling
274
Anthony Gose
X
225
Ryan Flaherty
275
Jeremy Hellickson
226
Toby Matchulat
276
Jason Knapp
X
227
Brent Morel
277
Zach Collier
X
228
Kevin Eichhorn
278
Tony Watson
229
Kevin Dubler
279
Daniel McCutchen
X
230
Devin Mesoraco
X
280
Jordy Mercer
231
Michel Inoa
X
281
Alvaro Aristy
232
Carlos Santana
282
Daniel Robertson
233
Lonnie Chisenhall
X
283
Logan Forsythe
X
234
Trey Haley
284
Wynn Pelzer
235
Darin Holcomb
285
Rafael Rodriguez
236
Cody Satterwhite
X
286
Scott Barnes
237
Ryan Perry
X
287
Aaron Pribanic
238
Dellin Betances
288
Jose Valdivia
239
Edgar Olmos
X
289
Tommy Johnson
240
Isaac Galloway
X
290
Adam Reifer
241
Kyle Skipworth
291
Devin Shepherd
242
Mike Stanton
292
Tim Beckham
243
Eric Taylor
293
Neftali Feliz
244
Jason Castro
294
Daniel Bard
245
Mitch Einertson
X
295
Kevin Ahrens
X
246
Polin Trinidad
296
Robert Bell
247
T.J. Steele
297
Adrian Nieto
X
248
Eric Hosmer
298
Blake Stouffer
249
John Flanagan
299
Juan Duran
250
Mike Montgomery
X
300
Michael Guerrero
TRISTAR PROjections 2008 Base Cards
Card #
Player

1

Almanzar, Michael

2

Angelini, Carmen

3

Reddick, Josh

4

Chiang, Chih-Hsien

5

Kalish, Ryan

6

Grote, Taylor

7

Claggett, Anthony

8

Liu, Kai

9

DeLeon, Kelvin

10

Mills, Beau

11

Navarro, Yamaico

12

Pope, Ryan

13

Robertson, David

14

Scherzer, Max

15

Horne, Alan

16

Mailman, David

17

Suttle, Brad

18

Anderson, Lars

19

Jackson, Austin

20

Romine, Austin

21

Adkins, James

22

Ceda, Jose

23

d'Arnaud, Travis

24

Hanson, Tommy

25

Cox, Bryce

26

Krum, Austin

27

Monasterios, Carlos

28

Moviel, Scott

29

Francisco, Juan

30

Guerra, Deolis

31

Heyward, Jason

32

Huntzinger, Brock

33

Jones, Hunter

34

Rizzo, Anthony

35

Noonan, Nick

36

LaPorta, Matt

37

Manship, Jeff

38

Kopp, David

39

Porcello, Rick

40

Todd, Jess

41

Lin, Che-Hsuan

42

Bates, Aaron

43

Parker, Jarrod

44

Price, David

45

Vechionacci, Marco

46

Bowden, Michael

47

Place, Jason

48

Vineyard, Nathan

49

Walters, P.J.

50

Tabata, Jose

51

Wieters, Matt

52

Withrow, Chris

53

Montero, Jesus

54

Betances, Dellin

55

Daeges, Zack

56

Lowrie, Jed

57

Rasmus, Colby

58

Sanchez, Humberto

59

Alderson, Tim

60

Anton, Michael

61

Aumont, Phillippe

62

Below, Duane

63

Berlind, Daniel

64

Bingjia, Yu

65

Brigham, Jake

66

Bryson, Robert

67

Buck, Dallas

68

Burgess, Michael

69

Carroll, Danny

70

Carvajal, Yefri

71

Chacin, Jhoulys

72

Brown, Corey

73

Bumgarner, Madison

74

Crosby, Casey

75

Cumberland, Drew

76

De Los Santos, Fautino

77

Desme, Grant

78

Doolittle, Sean

79

Contreras, Ivan

80

Estill, Lyndon

81

Fairley, Wendell

82

Fisher, Michael

83

Ford, Darren

84

Fuller, Clay

85

Gallagher, Jimmy

86

Frazier, Todd

87

Gonzalez, Esmailyn

88

Halman, Greg

89

Font, Wilmer

90

Horton, Josh

91

Inman, Will

92

Griffith, Nevin

93

Kolodny, Tyler

94

Lotzkar, Kyle

95

Luebke, Cory

96

Main, Michael

97

Gallagher, Glenn (Austin)

98

Latos, Mat

99

Miller, Adam

100

Noriega, Gabriel

101

Hamilton, Brandon

102

Sosa, Oswaldo

103

Beltre, Engel

104

Devries, Cole

105

Hicks, Brandon

106

Poveda, Omar

107

James, Brad

108

Mahoney, Joseph

109

Rams, Danny

110

Revere, Ben

111

Martinez, Mario

112

O'Sullivan, Sean

113

Parnell, Robert

114

Savery, Joe

115

Paulk, Michael

116

Poreda, Aaron

117

Soto, Neftali

118

Pucetas, Kevin

119

Tripp, Brandon

120

Ramirez, Wilkin

121

Schmidt, Nick

122

Nunez, Eduardo

123

Veal, Donald

124

Antonelli, Matt

125

Bruce, Jay

126

Cardenas, Adrian

127

Bard, Daniel

128

Engel, Reid

129

Colvin, Tyler

130

Kottaras, George

131

Marquez, Jeff

132

McCutchen, Andrew

133

Miranda, Juan

134

Pauley, David

135

Samardzija, Jeff

136

Smith, Brett

137

Still, Jon

138

Whelan, Kevin

139

Rodriguez, Josh

140

Rowell, Billy

141

Castillo, Luis

142

Correa, Hector

143

Cozart, Zack

144

Dominguez, Matt

145

Easley, Ed

146

Fish, Robert

147

Friday, Brian

148

Arencibia, J. P.

149

Cecil, Brett

150

Cortes, Daniel

151

Eiland, Eric

152

Mesoraco, Devin

153

Moskos, Daniel

154

Freeman, Freddie

155

Pimentel, Julio

156

Morales, Angel

157

Gilmore, Jon

158

Souza, Steven

159

Tolisano , John

160

Weathers, Casey

161

Worth, Daniel

162

Jackson, Justin

163

Ortiz, Adrian

164

Smolinski, Jake

165

Beato, Pedro

166

Welker, Duke

167

Conger, Hank

168

Zimmermann, Jordan

169

Battle, Tim

170

Brown, Jordan

171

Clay, Caleb

172

Johnson, Kris

173

Longoria, Evan

174

Marrero, Chris

175

Duncan, Eric

176

Reynolds, Greg

177

Ahrens, Kevin

178

Snider, Travis

179

Gardner, Brett

180

Smith, Jameson

181

Tillman, Chris

182

Fuenmayor, Balbino

183

Andrus, Elvis

184

Balester, Collin

185

Henry, C.J.

186

Barnese, Nick

187

Robertson, Tyler

188

Erbe, Brandon

189

Mayberry Jr., John

190

Sapp, Max

191

Perez, Sergio

192

Howard, Kevin

193

Hardy, Rowdy

194

Stanton, Michael

195

Volstad, Chris

196

McCulloch, Kyle

197

Cuevas, Jairo

198

Einertson, Mitch

199

Bergesen, Brad

200

Snyder, Brandon
TRISTAR PROjections 2008 GR8 Xpectations™
GR8 Xpectations

™

Dual Autograph Cards
Card #
Card Title
Player 1
Player 2
GR8-RR
GR8 Siblings
Romine, Austin
Romine, Andrew
GR8-RS
GR8 Prospects
Rohrbough, Cole
Schafer, Jordan
GR8-MD
GR8 HS Teammates
Moustakas, Mike
Dominguez, Matt
GR8-PS
GR8 Starting Pitchers
Pucetas, Kevin
Scherzer, Max
GR8-CI
GR8 Young Arms
Claggett, Anthony
Inman, Will
GR8-JR
GR8 Outfielders
Jennings, Desmond
Rasmus, Colby
GR8-AC
GR8 2nd Sackers
Antonelli, Matt
Cardenas, Adrian
GR8-WM
GR8 Texas Prospects
Whittleman, Johnny
Mayberry, John
GR8-LC
GR8 Sluggers
Longoria, Evan
Carter, Chris
GR8-SC
GR8 Starters
Scherzer, Max
Carrasco, Carlos
GR8-SR
GR8 Outfield Arms
Schaefer, Jordan
Rasmus, Colby
GR9RH
GR8 3rd Baseman
Rowell, Billy
Hodges, Wes
GR8-RR
GR8 Excitement
Raynor, John
Rasmus, Colby
GR8-JD
GR8 Hitting Prospects
Johnson, Cody
Daeges, Zach
GR8-WK
Boston's GR8 Backstops
Weeden, Ty
Kottaras, George
GR8-KV
GR8-Southpaw Arms
Kershaw, Clayton
Veal, Donald
GR9-BG
GR8 Shortstop Gloves
Bocock, Brian
Gomez, Hector
GR8-AD
GR8 2nd Base Gloves
Antonelli, Matt
Duran, German
GR8-NL
Boston's GR8 Shortstops
Navarro, Yamaico
Lowrie, Jed
GR8-MR
Boston's Gr8 1st Baseman
Mailman, David
Rizzo, Anthony
GR8-RA
NY's GR8 1st Sackers
Romine, Austin
Angelini, Carmen
GR8-CM
NY's GR8 Backstops
Cervelli, Frank
Montero, Jesus
GR8-RB
NY's GR8 Hurlers
Robertson, David
Brackman, Andrew
GR8 Xpectations

™

Triple Autograph Cards
Card #
Card Title
Player 1
Player 2
Player 3

GR8-BHF

GR8 Sluggers

Bell, Bubba

Hodges, Wes

Francisco, Juan

GR8-KHJ

GR8 Hurlers

Kershaw, Clayton

Hanson, Tommy

James, Brad

GR8-FSS

GR8 Outfielders

Bruce, Jay

Schafer, Jordan

Stubbs, Drew

GR8-CCT

GR8 Backstops

Conger, Hank

Cervelli, Frank

Teagarden, Taylor

GR8-TCJ

GR8 Outfielders

Tabata, Jose

Colvin, Tyler

Jennings, Desmond

GR8-SPK

GR8 Pitchers

Scherzer, Max

Price, David

Kershaw, Clayton

GR8-JRS

GR8 Hitters

Jackson, Austin

Rasmus, Colby

Schafer, Jordan

GR8-AKR

Boston's GR8est

Anderson, Lars

Kalish, Ryan

Reddick, Josh

GR8- RCH

Boston's GR8 Pitchers

Richardson, Dustin

Clay, Caleb

Hagadone, Nick

GR8-ABC

Boston's GR8 1st Basemen

Anderson, Lars

Bates, Aaron

Carter, Chris

GR8-BKR

Boston's GR8 Outfielders

Bell, Bubba

Kalish, Ryan

Reddick, Josh

GR8-SNV

NY's GR8 Middle Infielders

Sublett, Damon

Nunez, Eduardo

Vechionacci, Marco

GR8-GBT

NY's GR8 Outfielders

Gardner, Brett

Battle, Tim

Tabata, Jose

GR8-BPC

NY's GR8 Arms

Betances, Dellin

Pope, Ryan

Claggett, Anthony

GR8-WMH

NY's GR8 Pitchers

Whelan, Kevin

McAllister, Zachary

Horne, Alan

GR8-AJT

NY's GR8est

Angelini, Carmen

Jackson, Austin

Tabata, Jose
GR8 Xpectations

™

Quadruple Autograph Cards
Card #
Card Title
Player 1
Player 2
Player 3
Player 4

GR8-GBNL

GR8 Shortstops

Gomez, Hector

Bocock, Brian

Navarro, Yamaico

Lowrie, Jed

GR8-ABCB

GR8 1st Basemen

Anderson, Lars

Brown, Jordan

Carter, Chris

Bates, Aaron

GR8-SLRB

GR8 Hitters

Snider, Travis

Longoria, Evan

Rasmus, Colby

Bell, Bubba

GR8-JMBM

Boston's GR8 Hurlers

Johnson, Kris

Middlebrooks, William

Bard, Daniel

Masterson, Justin

GR8-GGBT

NY's GR8 Outfielders

Grote, Taylor

Gardner, Brett

Battle, Tim

Tabata, Jose
2008 High # Series Base Cards, Parallels & Reflectives

201
Davis, Wade
202
Stubbs, Drew
203
Whittleman, John
204
Young Jr, Eric
205
Carr, Adam
206
Ford, Shelby
207
Pope, Van
208
Hellickson, Jeremy
209
Kroenke, Zach
210
DeLaRosa, Elio
211
Almonte, Zolio
212
Heredia, Jairo
213
Middlebrooks, William
214
Hagadone, Nick
215
Almonte, Abraham
216
Tejeda, Oscar
217
Mills, Adam
218
Britton, Drake
219
Urena, Carlos
220
Kozma, Pete
221
Arrieta, Jacob
222
Pirela, Jose
223
Diaz, Argenis
224
Vizcaino, Arodys
225
Gil, Jose
226
Zhang, Zhenwang
227
Beavan, Blake
228
Barney, Darwin
229
Bell, Bubba (Billy)
230
Braddock, Zach
231
Brown, Dominic
232
Borbon, Julio
233
Bromberg, David
234
Dent, Ryan
235
Donaldson, Joshua
236
Nelson, Chris
237
Gomez, Hector
238
Carr, Nick
239
Pichardo, Kelvin
240
Ingram, D'Marcus
241
Spoone, Chorye
242
Rodriguez, Sean
243
Kunz, Eddie
244
Sosa, Henry
245
Marrero, Christian

246

Mattair, Travis

247
Dolis, Rafael
248
Statia, Hainley
249
Feliz, Neftali
250
Kulbacki, Kellen
251
Gibson, Glenn
252
Bailey, Andrew
253
Rohrbough, Cole

254

Suarez, Larry

255
Mortensen, Clayton
256
Vitters, Joshua

257

Waring, Brandon

258
Weeden, Ty

259

Wild, Jacob

260
Niesen, Eric
261
Escobar, Alcides
262
Rustich, Brant
263
Kershaw, Clayton
264
Thomas, Anthony
265
Richardson, Dustin

266

Watt, Michael

267

Almonte, Denny

268
Arias, Hitaniel
269
Bachanov, Jonathan
270
Paredes, Edward

271

Billings, Bruce

272

Olbrychowski, Adam

273
Brown, Brooks
274
Bucardo, Wilber
275
Coghlan, Chris
276
Canham, Mitch

277

Carroll, Scott

278
Castillo, Fabio

279

Chalk, Brad

280
Sinkbeil, Brett

281

Ely, John

282
Culberson, Charlie
283
Davis, Chris
284
DeJesus, Jhrmivy
285
Parra, Gerardo
286
Duran, German
287
Enright, Barry
288
Fabian, Robinson
289
Felix, Francisco
290
Royster, Ryan
291
Locke, Jeffrey
292
Bell, Josh
293
Galvez, Jonathan
294
Gindl, Caleb
295
Haynes, Jeremy
296
Payne, Danny
297
Brantley, Michael
298
Hunter, Raymond (Tommy)
299
Chapman, Stephen
300
LaBoy, Albert

301

McCardell, Mike

302
Calzado, Josue
303
Ramirez, Neil
304
Mangini, Matt

305

Riordan, Cory

306
McGee, Jake

307

Romine, Andrew

308
Castillo, Francisco
309
Salas, Fernando
310
Santana, Cristian
311
Simmons, James
312
Perez, Martin
313
Solis, Manuel
314
Teheran, Julio
315
Ramirez, Juan
316
Wang, Wei
317
Reed, Evan
318
Rike, Brian
319
Roemer, Wes
320
Sanchez, Salvador
321
Saunders, Michael
322
Williams, Jackson
323
Sogard, Eric
324
Ortiz, Jaime
325
Cuello, Prily
326
Tobin, Mason
327
Walden, Jordan

328

West, Matt

329
Geer, Josh
330
Huseby, Chris
331
Anderson, Brett
332
Carter, Chris
333
Capellan, Jose
334
Carrasco, Carlos
335
Hernandez, Gorkys
336
Garcia, Christian
337
Hodges, Wes
338
Lofgren, Chuck
339
Masterson, Justin
340
McAllister, Zachary
341
Ottavino, Adam
342
Ramirez, Max
343
Schafer, Jordan
344
Villalona, Angel
345
White, Steven
346
Miller, Drew
347
Herrera, Jonathan
348
Butcher, Brok
349
Hughes, Rhyne
350
Kline, Will

351

Davis, Lars

352
Duffy, Danny
353
McCormick, Michael
354
Navarro, Reynaldo
355
Smoker, Josh
356
Heuser, James
357
Pena, Francisco
358
Magnuson, Trystan
359
McKae, Dave

360

Mitchell, Matt

361
Moustakas, Mike
362
Adenhart, Nick
363
Raynor, John
364
Runion, Sam
365
Brewer, Brent
366
Taylor, Graham
367
Van Allen, Cory
368
Burke, Kyler
369
Garcia, Jaime
370
Triunfel, Carlos
371
Anderson, Bryan
372
Goedert, Jared
373
Herron, Tyler
374
Hynick, Brandon
375
Outman, Josh
376
Whitney, Matt
377
Granadillo, Tony
378
Hurley, Eric
379
Johnson, Cody
380
Kiker, Kasey
381
Robnett, Richie
382
Mather, Joe
383
Perez, Chris
384
Keough, Shane
385
Carter, Chris
386
Walker, Neil
387
LeBlanc, Wade
388
Mayora, Daniel
389
Teagarden, Taylor
390
Huffman, Chad
391
Morlan, Eduardo
392
Cahill, Trevor
393
Manzella, Tommy
394
Reed, Justin
395
Willems, Colton
396
Fowler, Dexter
397
Harrison, Matt
398
Evarts, Steve
399
Jennings, Desmond
400
Billy Crystal
2008 High # Series GR8 Xpectations™

Dual Autograph Cards

Card #

Card Title

Player 1

Player 2

GR8-PK
St. Louis GR8s
Perez, Chris
Kozma, Peter
GR8-MY
GR8 Offspring
Mayberry Jr., John
Young, Eric Jr
GR8-AI
San Diego's GR8 Prospects
Antonelli, Matt
Inman, Will
GR8-PW
GR8 College Teammates
Price, David
Weathers, Casey
GR8-RM
GR8 Starting Pitchers
Roemer, Wes
Moskos, Daniel
GR8-KR
GR8 Young Arms
Kunz, Eddie
Ramirez, Neil
GR8-RC
GR8 Outfielders
Rike, Brian
Colvin, Tyler
GR8-TY
GR8 2nd Sackers
Tolleson, Steven
Young, Eric Jr
GR8-MB
GR8 Texas Prospects
Mayberry Jr., John
Beavan, Blake
GR8-BD
GR8 Sluggers
Brown, Corey
Duran, German
GR8-RP
GR8 Starters
Reynolds, Greg
Parker, Jarrod
GR8-EH
GR8 Outfield Prospects
Einertson, Mitch
Heyward, Jason
GR8-MV
GR8 3rd Basemen
Mangini, Matt
Villalona, Angel
GR8-KK
GR8 St. Louis Prospects
Kopp, David
Kozma, Peter
GR8-CV
North Side's Future GR8s
Ceda, Jose
Vitters, Josh
GR8-HH
Atlanta's Future GR8s
Heyward, Jason
Hernandez, Gorkys
GR8-SZ
Washington's Future GR8s
Smolinkski, Jake
Zimmerman, Jordan
GR8-BB
GR8 Flamethrowers
Bachanov, Jonathan
Beato, Pedro
GR8-CE
GR8 Pitchers
Carrasco, Carlos
Enright, Barry
GR8-MC
GR8 Shortstops
Manzella, Tommy
Culberson, Charlie
GR8-WK
LA GR8 Aces
Withrow, Chris
Kershaw, Clayton
GR8-AC
NY's GR8 2nd Sackers
Almonte, Abraham
Cuello, Prily
GR8-GZ
NY's GR8 Backstops
Gil, Jose
Zhang, Zhenwang
GR8-BO
NY's GR8 Hurlers
Brackman, Andrew
Olbrychowski, Adam
Triple Autograph Cards
Card #
Card Title
Player 1
Player 2
Player 3
GR8-FLB
GR8 Sluggers
Francisco, Juan
LaPorta, Matt
Burgess, Michael
GR8-RZW
GR8 Hurlers
Rohrbough, Cole
Zimmerman, Jordan
Weathers, Casey
GR8-BEK
GR8 Pitchers
Bachanov, Jonathan
Enright, Barry
Kunz, Eddie
GR8-MVS
GR8 Third Sackers
Mangini, Matt
Villalona, A
Smolinksi, Jake
GR8-SZS
Washington's Future GR8s
Smolinkski, Jake
Zimmerman, Jordan
Smoker, Josh
GR8-BBF
GR8 Giant Prospects
Bumgarner, Madison
Bocock, Brian
Fairley, Wendell
Quadruple Autograph Cards
Card #
Card Title
Player 1
Player 2
Player 3
Player 4
GR8-PMMB
GR8 Pitching Prospects
Parker, Jarrod
Moskos, Daniel
Miller, Adam
Bumgarner, Madison
GR8-KKMW
NY's GR8 Arms
Kontos, George
Kroenke, Zach
McCutchen, Daniel
Whelan, Kevin
GR8-ACPU
NY's GR8 Outfielders
Almonte, Zolio
Calzado, Josue
Pirela, Jose
Urena, Carlos
Reflectives™ Cards are Parallels of each Base Card and are the highest quality and most appealing cards. They appear silver and shiny with Reflectives™ technology. Seeded 1 Per Pack.
Look for Parallels of each PROjections™ Base Card and Reflectives™ Card:

- Numbered to 50 (Green)

- Numbered to 25 (Yellow)

- Numbered to 5 (Orange)

- Numbered 1 of 1 (Purple)
Copyright © 2010 TRISTAR Productions, Inc.